Public Affairs
Our Squadron in the News
---
Like daughter like father: Family members find a lot to like about Civil Air Patrol
Published 6:00 am Friday, August 10, 2018
When Nick Birt's daughter Chloe attended Perryville Elementary School, she loved playing football with the boys. But in middle school, the boys were getting bigger than her and coaches were taking the sport much more seriously.
The day Chloe quit football and handed in her pads, Birt showed his daughter the Facebook page for the Civil Air Patrol, which has a chapter here in Boyle County.
"You have to find something to do and not sit around the house," he told her.
He didn't know at the time that Chloe wasn't the only one about to discover a new passion.
"She was hooked right away," he said. "… Then they went to work on me."
Birt joined the Stuart Powell Cadet Squadron 122 Civil Air Patrol (CAP) shortly after his daughter. He's been involved… Read more
---
Vets Purchase Color Guard Equipment for Local Civil Air Patrol Cadets
American Legion Post 18 commander Lynn Young, left, and Ron Hunkins attach a Kentucky flag to a post before presenting the honor guard equipment to the squadron.
Members of VFW Post 3634 and American Legion Post 46, both of Danville, and American Legion Post 18 of Stanford, donated Click here for full article…
---
Civil Air Patrol Cadets Honored by Danville
Cadet Maj. Ryan Hebert and Cadet Senior Master Sgt. William Campbell were recognized as role models for the youth of Danville and Boyle County. Click here for full article…
---
Regional Civil Air Patrol is Recruiting New Cadets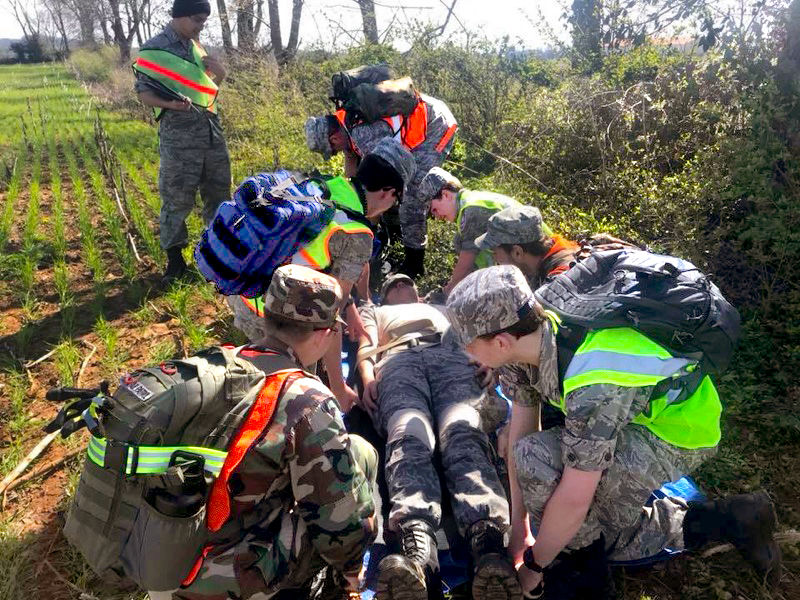 By CARLA SLAVEY Commonwealth Journal
The local squadron of the U.S. Air Force Auxiliary started up last October, and they want to get the word out that they are looking for more young adults to join in, according to Deputy Squadron Commander Maj. Jill Smith. Click here for full article…
---
Civil Air Patrol has an updated and revised 2018 Fact Sheet. The two-page fact sheet can be printed on the front and back of a regular sheet of copy paper.
---
The upgraded, newly designed GoCivilAirPatrol.com is live, folding four CAP sites into one and making the original GoCivilAirPatrol.com much
more user-friendly for both existing members as well as prospective new members.
---
Civil Air Patrol has launched CAP.news, replacing VolunteerNow as the organization's news website. CAP.news features an engaging
scroll-down format and much more attractive photo presentation. Content is aimed largely toward an external audience, especially the media.
---
Essentials